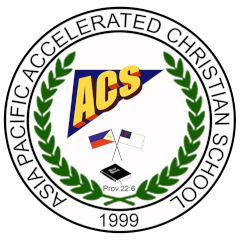 The setting of "1999" in the base of the School's Logo is to express our respect to the efforts of the founding individuals who were undaunted by the difficulties on putting up the school.
The Laurel Leaves symbolize the achievement and success.
The Bible symbolizes the governing principles and standards of the school along with the setting of Prov. 22:6 as its school verse.
The Philippine flag is the symbol of patriotism. The Christian flag is honoring Jesus Christ as its Head.
The pennant symbolizes the promotion of sports as part of the total development of a person.
The smooth, endless, and rounded sides of the circles represent the well-rounded personality of an educated individual.